Research article
Open Access
Exploring the ability of current climate information to facilitate local climate services for the water sector
Earth Perspectives
Transdisciplinarity Enabled
2015
2:6
Received: 4 November 2014
Accepted: 18 November 2015
Published: 24 November 2015
Abstract
Local climate services become increasingly necessary in making adaptation to our changing climate more understandable and manageable. The ability of current climate information to develop and support local climate services for water resources management in close collaboration with local users of the water sector from the island of Crete is being explored. Climate modeling output ranging from event scale to decadal and centennial experiments, at hourly to monthly temporal scales and at high resolution (2 Km) to GCM spatial scales (100–250 km), are used to assess climate change impacts on water resources availability and extremes. A robust signal of temperature increase and precipitation decrease is projected for all future periods, in parallel to an increase in magnitude of extreme precipitation. Several messages could be extracted from the provider – user interaction such as the communication of basic concepts and uncertainties, user skepticism and feedback. The frequent personal contact, the communication in layman's terms of the limitations of the climate impact modeling and the corresponding uncertainties, is the key to successful provisions of suitable information.
Keywords
Climate changeClimate impactsClimate servicesWater resourcesHydrological modelingExtremesMediterraneanCrete Island
Background and user needs
Climate is changing and so is the perception about the impact of human intrusiveness. The increasing demands of the growing population will put further pressures on the climate and the environment. In order to meet the challenges of climate change the development of both climate modelling and science for climate services is required (Hewitt et al. 2012; Hewitt et al. 2013). The provisions of suitable information on climate change and variability for supporting decision making at all levels of society can be described as climate service (Vaughan & Dessai 2014). The current situation in the field of climate services can be characterized by increasing needs and by the need to adjust practices and procedures adjustment in order to offer modern products and services, meeting the needs of a changing society (Bokoye et al. 2014; Guido et al. 2013).
Regarding the water sector, climate change is likely to increase the regional and global water stress considerably. A 15 % of the global population will probably face a severe decrease of water availability from 2 °C warmer climate, based on an ensemble of global hydrological projection (Schewe et al. 2014). In the majority of climate impact studies Mediterranean is projected as one of the most vulnerable areas to climatic and anthropogenic changes (Navarra & Tubiana 2013). Model projections reveal a continual and gradual warming trend while exceptional hot summers during the control period may become "typical" by the end of the 21st century (Kostopoulou et al. 2013). Decreasing annual rainfall trends and an increasing number of extreme precipitation events are present in most projections from both global and regional climate models and are consistent across emission scenarios, concentration pathways and future time periods (Ludwig et al. 2011). Currently, the southern and eastern rims are experiencing high to severe water stress induced by human and climatic drivers. Future scenarios for water resources in the Mediterranean region suggest a progressive decline in the average stream flow (García-Ruiz et al. 2011; Murray et al. 2012). By the 2050s, this stress could increase over the whole Mediterranean basin, notably because of a 30–50 % decline in freshwater resources as a result of climate change (Milano et al. 2013). Models foresee a robust large-scale change of the surface water balance and the partitioning of precipitation between evapotranspiration, runoff, and groundwater flow (Schewe et al. 2014; García-Ruiz et al. 2011; Arnell et al. 2011; Tsanis et al. 2011). At the same time increasing climate change induced temperatures will most likely increase the need for irrigation in agriculture. Irrigation potential will be reduced by decreasing runoff and aquifer recharge. Overexploitation and water conflicts will also probably increase between different water consuming sectors (Santos et al. 2013).
The current financial stress of the southern European countries and the continuously reduced national investment programmes call for low cost, short and long term water management strategies in order to tackle the climate induced changes in water resources (Koutroulis et al. 2013). All the above indicates the necessity to improve and update local water management planning and adaptation strategies in order to attain future water security, and thus specialized climate services supporting these actions is of crucial importance. Climate services have to be tailored to the local context. There is an increasing call for local measures to adapt to climate change, based on foresight analyses in collaboration with actors. However, such analyses involve many challenges, particularly because the actors concerned may not consider climate change to be an urgent concern (Faysse et al. 2012).
The objective of the study is to present in detail analysis and post-processing of climate output for the extraction of climate information in its most useful and manageable form, meeting the needs of a local user of the water sector, the Directorate of Water of the decentralized administration of the island of Crete. The Directorate of Water is responsible for the water distribution and availability. Planning involves domestic and irrigation use infrastructure and policy development. Currently the Regional Authority owns a large number of hydro-meteorological stations over the island that allow for an adequate modelling of the current conditions. The availability of future climate data, during the 21st century, is crucial for the development of water management scenarios and risk assessment of future water availability. Moreover the Directorate of Water as the general water managing authority in the Prefecture of Crete is also responsible for the implementation of the European Water Framework Directive (WFD) for the corresponding hydrological compartment (GR13). The implementation of the WFD is based on 6 years term management plans. The first draft management plan was developed during the course of the ECLISE project and information regarding short term experiments such as decadal projections was considered as very useful and appropriate for this application. At the same time, an assessment of the severity and frequency of future precipitation extremes is also important in order to update the policies infrastructure design.
Interaction with the local management authority lead to the identification of the user needs. Figure
1
illustrates the identified user needs, associated source of information and corresponding temporal scales. These needs are related to climate modelling outputs ranging from event scale to decadal and centennial experiments, at temporal scales ranging from hourly to monthly, and at spatial scales from very high resolution regional climate models (2 km) to typical GCMs (100–250 km).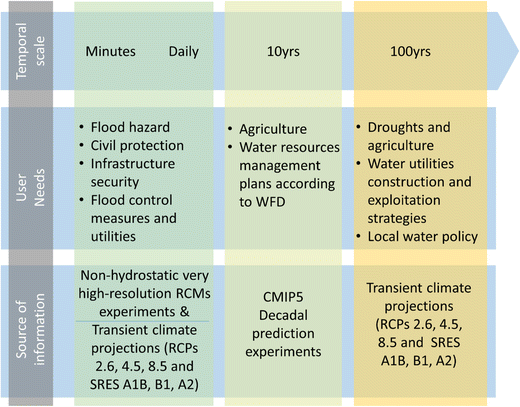 Centennial scale experiments were used in order to assess climate change impacts on water resources availability combined with estimates of the potential future water demand of the island of Crete. A Grand Ensemble of specialized hydrological information was structured from 45 realizations by seven GCMs within the frame of CMIP5 (under RCPs 2.6–14 realizations, 4.5–16 realizations and 8.5–15 realizations), from three GCMs (under SRES A2 and B1, in the frame of CMIP3 – one realization) and from 10 RCMs downscaling eight CMIP3 driving GCMs (ENSEMBLES FP6, under SRES A1B – one realization). Each member of this ensemble was bias adjusted against local observations. The range of projected information among the different emission scenarios, different climate model setups and scale represent a wide range of the uncertainty assessed in the projected hydro-climatology of the region. The continuous rainfall-runoff model SAC-SMA was used to estimate the hydrologic impact during the 21st century for the study area. Water availability for the whole island was then estimated for a range of different scenarios of projected hydro-climatological regime, demand and supply potential. Regarding the shorter term water management planning according to the European Water Framework Directive (WFD), the ability of decadal GCM prediction experiments to reproduce basic hydro-meteorological variables like precipitation and temperature, was also examined.
In terms of potential future changes in extreme events related to precipitation the recurrence intervals of specific magnitude was studied using the Annual Exceedance Probability (AEP) approach. Additionally, three special cases were framed, for demonstrating high resolution climate modeling applications of extreme flood events over the case study area and the evolution of the corresponding events at a +2 °C warmer climate. This application had a dual purpose, firstly to convince the user for the capabilities of climate modeling against scaling uncertainty and secondly to test the high resolution modeling capability of realistic representation of such events.
The final product of the communication with the end user and the research instigated by this interaction, were technical reports, future climate statistics and time series on meteorologic variables and rainfall-runoff simulations supporting water availability decision-making, as well as statistics of projected precipitation extremes in terms of recurrence intervals delivered to the Regional Authority for Water Resources Management of Crete.
Area of study and climate information
Conclusions
Despite limitations and uncertainties, this study uses climate change hydro-meteorological impact datasets developed in several European Commission funded projects, providing local water resources management authority with a glimpse into a very plausible future where the quantitative impact of changing climate on water availability and hydrological extremes can be substantial. These results were collectively reported to the local water managing authority trying to meet the information needs in the context of a user-provider interaction.
Updated basin scale climate information was delivered to the user, information that is useful in prioritizing certain water resources related infrastructure development. A robust signal of water scarcity is projected for all the scenarios. According to the Water Directorate, the planned development policy of new water resources engineering is very closely connected with the growth of new irrigated areas leading to an increase of irrigation demand. The conclusion is that an alternative policy of development of new infrastructure should be adapted. This policy should not only give priority to the increase of irrigated areas, but should also assist in the practice of the existing irrigated areas with parallel evaluation of plans for newly irrigated areas. Long term projections indicate shorter precipitation periods around the winter season (combined with less evaporation) and higher precipitation events resulting to increased winter flows. It emerges that the inability to control large outflow quantities that runoff into the sea, despite recent improvements, remains a problem despite the growth of an abundance of infrastructure aiming to store winter spring and stream flows.
Regarding decadal projections, the coarse resolution of ESMs compared to the extent of the study area, cannot describe the local precipitation regime probably due to failure in capturing small scale processes. The bias is ranging from −55 to −70 % and could be caused by imperfections in sub-grid scale climate model conceptualizations. The relatively high correlation skill of specific models and the ability to capture the number of "wet" and "dry" years on average are encouraging for further investigation of decadal predictions. Dynamical downscaling of these experiments is proposed to be performed and evaluated for their applicability on short term management planning.
A robust increasing signal of daily precipitation maxima under A1B emission scenarios is projected from a set of 10 RCMs. Projected changes in precipitation extremes were communicated in terms of changes in Annual Exceedance Probability (AEP) based on annual maximum precipitation values and in terms of extreme percentiles and more specifically the 99.9-ile%. A substantial increase of the 2 % AEP (50 years return period daily precipitation maxima) is projected for all future periods by an average of almost 40 % (over 65 mm) ranging from 9 to 236 mm among the 52 stations analysed. Projections indicate a similar increase of the 99.9-ile% values of the order of 8 %.
Three present day extreme events over the island of Crete were simulating with the use of Non-hydrostatic high-resolution RCMs by the modelling groups of SMHI, UNI and KNMI. These events were also simulated under conditions of a warmer climate (+2 °C). Simulations proved to be sufficiently efficient in realistic capturing historical storm events and thus valuable in impact modelling. Historical storm events over Crete, could produce significantly higher precipitation accumulations and intensities in a warmer climate.
Summarizing, the main findings that should be communicated are:
A robust signal of temperature increase and precipitation decrease is projected for all the pathways and scenarios resulting to a severe decrease of water availability.

A promising sign of predictability from decadal prediction experiments that deserves further examination through dynamical downscaling.

A significant increase of the 2 % Annual Exceedance Probability in maximum daily precipitation is projected for all future periods over the island of Crete.

Non-hydrostatic high-resolution RCMs proved to be sufficiently efficient in realistic capturing storm events and thus valuable in impact modelling.

Historical storm events over Crete could produce significantly higher precipitation accumulations and intensities in a warmer climate.
It is considered essential to resolve the increasingly severe water problems facing the island by implementing strategic policies using integrated water management systems. User tailored climate services together with the hydrological information services should be co-designed with the local key-stakeholders. This is a necessity because it represents the requirement for proper management of water resources including extremes that will lead to a better infrastructure planning for a sustainable future.
Declarations
Acknowledgement
The financial support of this work has been provided by the European Commission through the ECLISE, COMBINE and IMPACT2C FP7 and WATCH FP6 projects. We are also grateful to the modeling teams of (Royal Netherlands Meteorological Institute, Climate Service Center, Uni Research and Swedish Meteorological and Hydrological Institute) for performing the set of experiments with NHRMs. The ENSEMBLES data used in this work was funded by the EU FP6 Integrated Project ENSEMBLES (Contract number 505539) whose support is gratefully acknowledged. We also acknowledge the World Climate Research Programme's Working Group on Coupled Modelling, which is responsible for CMIP, and we thank the climate modeling groups (listed in Table 2 of this paper) for producing and making available their model output. For CMIP the U.S. Department of Energy's Program for Climate Model Diagnosis and Intercomparison provides coordinating support and led development of software infrastructure in partnership with the Global Organization for Earth System Science Portals. We also thank the two anonymous reviewers whose comments have improved the paper.
Open AccessThis article is distributed under the terms of the Creative Commons Attribution 4.0 International License (http://creativecommons.org/licenses/by/4.0/), which permits unrestricted use, distribution, and reproduction in any medium, provided you give appropriate credit to the original author(s) and the source, provide a link to the Creative Commons license, and indicate if changes were made.
Authors' Affiliations
(1)
Department of Environmental Engineering, Technical University of Crete, Chania, Greece
(2)
Department of Civil Engineering, McMaster University, Hamilton, Canada
(3)
Climate Service Centre Germany (GERICS), Helmholtz-Zentrum Geesthacht, Hamburg, Germany